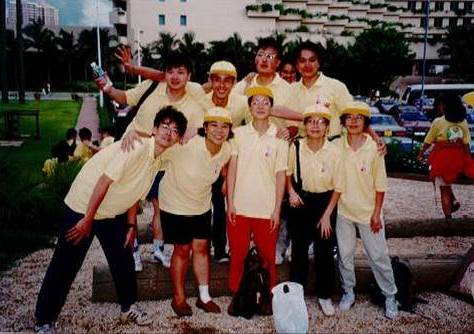 /
Early 1998, a group of idealistic and like-minded friends set up the "power of love." In October, three members of arrangements through Hong Kong Xinhua News Agency, made the first expedition, place of Hezhou nearby mountains, located in Guangdong and Guangxi at the junction, near Hunan, transportation is not convenient. Members visited the sites of the three mountain Grant Program, in which large estates Li Ning original mud-brick town primary school, in a second study two years ago because of a storm collapsed into no school, to high school students in need Zhao Ping, a dozen miles away in the primary school. Thus, it becomes "power of love" aided reconstruction first primary "love Lee Uk Hope School."

"Power of love" is a volunteer organization, no government funding, public donations attributed own heart, this fund-raising activities will include street fundraising, moon cake sale, charity gala, fundraising walk. Since all members of the Council are volunteers, save a lot of administrative resources open, all funds raised for mountain children.

Over the past 20 years, "power of love" for the mainland mountain every year to build school buildings, as well as improve the local children's learning environment, now has, including Inner Mongolia, Henan, Guizhou, Guangxi, Qinghai, Hunan, Hubei, Gansu, Jiangxi, Shaanxi, several provinces in China Zhejiang, Sichuan and Guangdong and other places, to build 111 primary schools successfully, benefiting tens of thousands of children.

In recent years, the Council has also started Grant Program, so that is not delivered by a group of book fees and forced suspension of children to continue their studies.